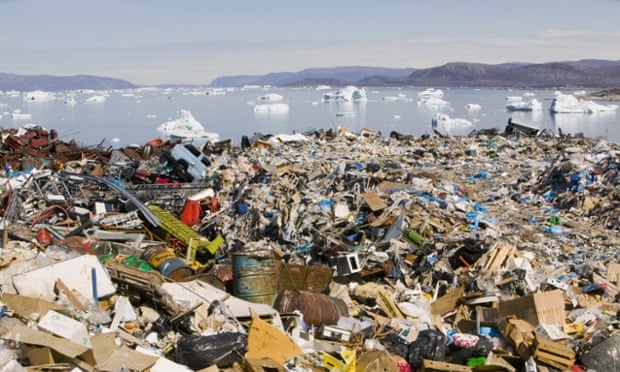 The number of wild animals on Earth has halved in the past 40 years, according to a new analysis. Creatures across land, rivers and the seas are being decimated as humans kill them for food in unsustainable numbers, while polluting or destroying their habitats, the research by scientists at WWF and the Zoological Society of London found.
"If half the animals died in London zoo next week it would be front page news," said Professor Ken Norris, ZSL's director of science. "But that is happening in the great outdoors. This damage is not inevitable but a consequence of the way we choose to live." He said nature, which provides food and clean water and air, was essential for human wellbeing.
"We have lost one half of the animal population and knowing this is driven by human consumption, this is clearly a call to arms and we must act now," said Mike Barratt, director of science and policy at WWF. He said more of the Earth must be protected from development and deforestation, while food and energy had to be produced sustainably.
The steep decline of animal, fish and bird numbers was calculated by analysing 10,000 different populations, covering 3,000 species in total. This data was then, for the first time, used to create a representative "Living Planet Index" (LPI), reflecting the state of all 45,000 known vertebrates.
"We have all heard of the FTSE 100 index, but we have missed the ultimate indicator, the falling trend of species and ecosystems in the world," said Professor Jonathan Baillie, ZSL's director of conservation. "If we get [our response] right, we will have a safe and sustainable way of life for the future," he said.
If not, he added, the overuse of resources would ultimately lead to conflicts. He said the LPI was an extremely robust indicator and had been adopted by UN's internationally-agreed Convention on Biological Diversity as key insight into biodiversity.
A second index in the new Living Planet report calculates humanity's "ecological footprint", ie the scale at which it is using up natural resources. Currently, the global population is cutting down trees faster than they regrow, catching fish faster than the oceans can restock, pumping water from rivers and aquifers faster than rainfall can replenish them and emitting more climate-warming carbon dioxide than oceans and forests can absorb.
The report concludes that today's average global rate of consumption would need 1.5 planet Earths to sustain it. But four planets would be required to sustain US levels of consumption, or 2.5 Earths to match UK consumption levels.
The fastest decline among the animal populations were found in freshwater ecosystems, where numbers have plummeted by 75% since 1970. "Rivers are the bottom of the system," said Dave Tickner, WWF's chief freshwater adviser. "Whatever happens on the land, it all ends up in the rivers." For example, he said, tens of billions of tonnes of effluent are dumped in the Ganges in India every year.
As well as pollution, dams and the increasing abstraction of water damage freshwater systems. There are more than 45,000 major dams – 15m or higher – around the world. "These slice rivers up into a thousand pieces," Tickner said, preventing the healthy flow of water. While population has risen fourfold in the last century, water use has gone up sevenfold. "We are living thirstier and thirstier lives," he said.
But while freshwater species such as the European eel and the hellbender salamander in the US have crashed, recoveries have also been seen. Otters were near extinct in England but thanks to conservation efforts now live in every county.
The number of animals living on the land has fallen by 40% since 1970. From forest elephants in central Africa, where poaching rates now exceed birth rates, to the Hoolock gibbon in Bangladesh and European snakes like the meadow and asp vipers, destruction of habitat has seen populations tumble. But again intensive conservation effort can turn declines around, as has happened with tigers in Nepal.
Marine animal populations have also fallen by 40% overall, with turtles suffering in particular. Hunting, the destruction of nesting grounds and getting drowned in fishing nets have seen turtle numbers fall by 80%. Some birds have been heavily affected too. The number of grey partridges in the UK sank by 50% since 1970 due to the intensification of farming, while curlew sandpipers in Australia lost 80% of their number in the 20 years to 2005.
The biggest declines in animal numbers have been seen in low-income, developing nations, while conservation efforts in rich nations have seen small improvements overall. But the big declines in wildlife in rich nations had already occurred long before the new report's baseline year of 1970 – the last wolf in the UK was shot in 1680.
Also, by importing food and other goods produced via habitat destruction in developing nations, rich nations are "outsourcing" wildlife decline to those countries, said Norris. For example, a third of all the products of deforestation such as timber, beef and soya were exported to the EU between 1990 and 2008.
David Nussbaum, chief executive of WWF-UK said: "The scale of the destruction highlighted in this report should be a wake-up call for us all. But 2015 – when the countries of the world are due to come together to agree on a new global climate agreement, as well as a set of sustainable development goals – presents us with a unique opportunity to reverse the trends.
"We all – politicians, businesses and people – have an interest, and a responsibility, to act to ensure we protect what we all value: a healthy future for both people and nature."
source: Damian Carrington-The Guardian
Every year, the lists rapidly grow.